By dreamdefender @ December 4, 2013 at 6:39pm
Holiday… Vampires?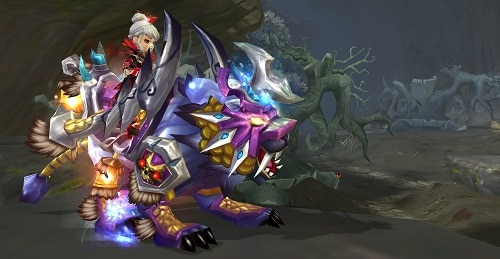 By now I hope most of you are getting a feel for the destruction that Terachnea's minions have been unleashing upon the Interglade, and the sheer amount of work it will take to combat them. To that end, we present this week's sales in the Heaven Repository!


Possessor and Jadeon of Soul
To help manage your time, we've got the 7-day Possessors and Jadeons of Soul on sale at 60% off, so stock up while you can.

Red Banded Yarn
And since you're going to want to make sure you don't miss a single Source Tree Leafnode, make sure your bag is all it can be as well, with the Red Banded Yarn. Both singles and packs of 6 are on sale this week for 50% off.


Basic Rainbow Stone & Dragon Marrow
But what if your gear just isn't quite up to snuff to fully combat the monsters in the Interglade? How about a quick upgrade? You can use Basic Rainbow Stones to upgrade Infusion Stones like the Gem of Mystery or Gem of Agility, which can give your gear a boost where you may be lacking. Likewise, Dragon Marrow can help combine Superb or Superior Jades to embed into your weapons. Either way, you'll be stronger than before, and with both 50% off this week, there's no time like the present.

Bag of Awesome
Finally, because there's nothing like a vampire riding an armored lion to help celebrate the holidays, the Bag of Awesome is on sale this week for 70% off. If you've got the right stuff, you could pull out a Vampire fashion set, Snow Lion King mount, Dragon Slayer Essence Debris or Dragon Apothegm Ⅰ for getting some new gear, or a ◎Stone of Peace for upgrading what you've already got. There's also a Double EXP scroll in there for an hour, which is just right for working on all those Bug Reports the Interglade Cursor has to sell you.
Written by Mercsmash